Electric Lifted Golf Cart: Redefining Eco-Friendly Mobility for Neighborhoods
Introduction
Unearth the forthcoming era of environmentally conscious and highly effective mobility through the Electric Elevated Golf Cart, a community-based electric vehicle engineered to metamorphose your nearby travels into a seamless blend of ease and eco-friendliness. Embrace a more immaculate and verdant approach to navigating your locality, all the while relishing the pinnacle of comfort and sophistication. Let's delve into the essential attributes that position this electric vehicle as a transformative force in local commuting.
Eco-Friendly Electric Power
Say goodbye to conventional gasoline-fueled automobiles and welcome the eco-conscious electric power system of the Electric Elevated Golf Cart. This environmentally friendly means of travel operates without emissions, making a positive impact on air quality and lessening your carbon imprint. Without noisy motors or detrimental discharges, you can leisurely explore your community, preserving its peaceful ambiance undisturbed.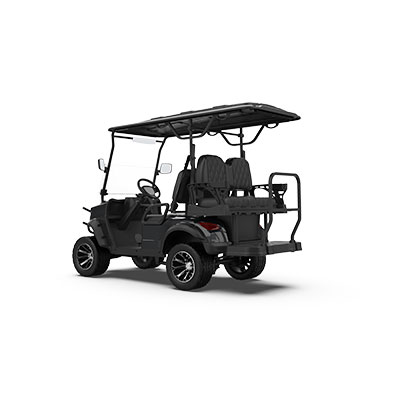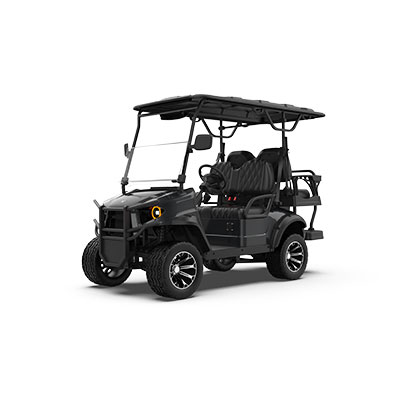 Quiet and Smooth Performance
Immerse yourself in the serenity of your local surroundings courtesy of the Electric Elevated Golf Cart's hushed and tranquil performance. The electric motor delivers a velvety and uninterrupted driving sensation, guaranteeing a calm expedition along roads and walkways. Bid farewell to clamorous engines and relish in a placid excursion, perfectly suited for dawn promenades or nocturnal excursions.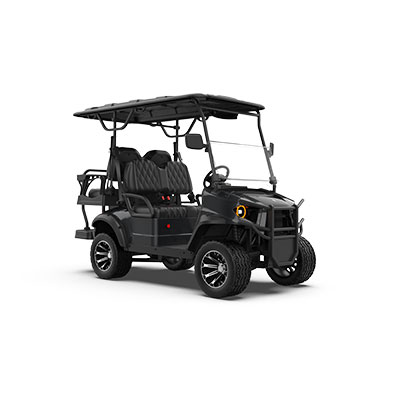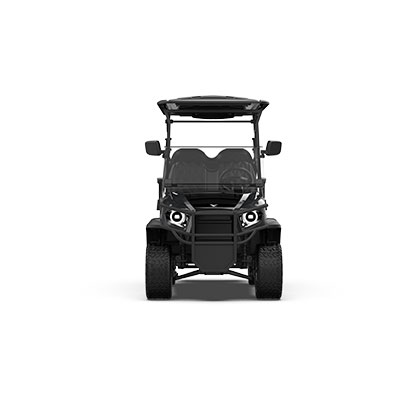 Stylish and Functional Design
Expertly fashioned to harmonize style and practicality, the Electric Elevated Golf Cart radiates sophistication while tending to your mobility requirements. Sporting a contemporary aesthetic, cozy seating, and generous storage capacity, this automobile seamlessly fuses aesthetics and utility, enhancing your local travel escapades.

Lifted Suspension for Versatility
Effortlessly conquer diverse landscapes with the Electric Elevated Golf Cart's elevated suspension system, ensuring seamless maneuverability. Whether navigating rugged pathways or embarking on leisurely off-road escapades, this local electric vehicle smoothly glides across different terrains, providing flexibility and versatility to your expeditions.

Safe and Secure Features
Ensuring your security takes precedence, and the Electric Elevated Golf Cart makes no concessions in this regard. Fitted with indispensable safety components like front and rear lights, seat restraints, and reflective surfaces, this conveyance guarantees your journeys are characterized by tranquility, regardless of daylight or atmospheric circumstances.

Easy Charging and Low Maintenance
Recharging the Electric Elevated Golf Cart is a breeze, all thanks to its electric energy supply. Simply connect it to a regular electrical socket, and you're set to set off on your forthcoming escapade. What's more, the electric propulsion system lessens the need for frequent maintenance, freeing up your time and preserving your finances from routine servicing expenses.

Customizable Options
Infuse your local electric conveyance with your personal touch using an array of customization alternatives, spanning from selecting hues to incorporating enhancements such as Bluetooth-integrated audio setups, USB charging docks, and holders for your golf bags. Configure your Electric Elevated Golf Cart to align perfectly with your distinct tastes and requirements, reflecting your individuality and way of life.
Conclusion
Revolutionizing the idea of local transit, the Electric Elevated Golf Cart introduces a new paradigm in neighborhood mobility, providing an eco-conscious, cozy, and chic manner of discovering your surroundings. Boasting an environmentally friendly electric drive, seamless functionality, and adaptable attributes, this community-oriented electric conveyance unveils a thrilling prospect to adopt a greener and more delightful method of navigating your vicinity. Embrace the forthcoming epoch of eco-sensitive mobility by embracing the Electric Uplifted Golf Cart and joining the momentum towards a more immaculate and sustainable world.