Electric Lifted Golf Cart: Redefining Eco-Friendly Mobility for Neighborhoods
Introduction
Embrace the Next Wave of Green and High-Performance Mobility with the Electric Elevated Golf Cart – Welcome the impending evolution of eco-friendliness and top-tier performance, embodied by the Electric Elevated Golf Cart. Skillfully designed to revolutionize your daily peregrinations within your local enclave, this electric wonder ensures not just a seamless and effortless ride, but also a significant step towards sustainability. Embrace a fresher, greener mode of community exploration, all while indulging in the height of comfort and elegance. Let's uncover the defining aspects that position this electric cart as a genuine game-changer in the realm of neighborhood transit.
Eco-Friendly Electric Power
Bid adieu to customary gasoline-driven vehicles and adopt the Electric Elevated Golf Cart's ecologically sound electric motor. This conscientious approach to transportation operates without emissions, actively contributing to cleaner air quality and a reduction in your carbon footprint. Absent of noisy engines or detrimental exhaust, you can leisurely travel through your neighborhood, leaving its peaceful surroundings undisturbed.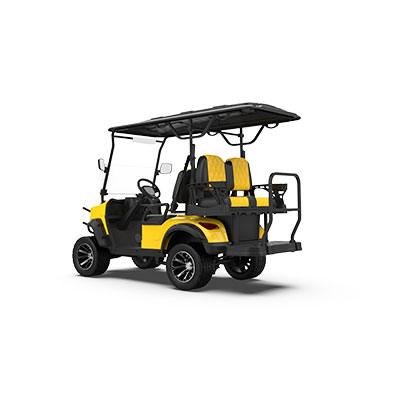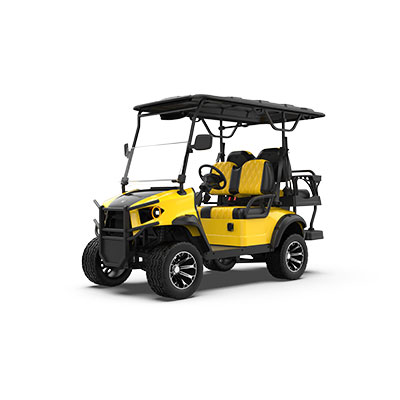 Quiet and Smooth Performance
Bask in the stillness of your community while traversing it gracefully aboard the Electric Elevated Golf Cart, renowned for its whisper-quiet performance. The electric motor imparts a gentle and uninterrupted driving feel, ensuring an undisturbed excursion along roads and byways. Bid adieu to raucous engines and savor a calm expedition, perfectly suited for early morning saunters or midnight jaunts.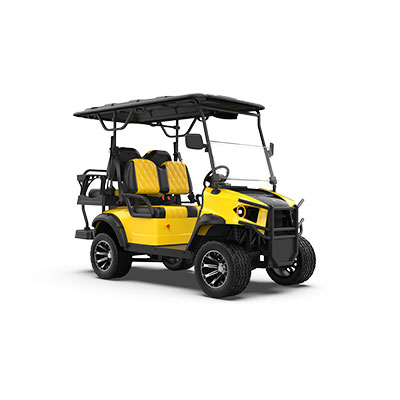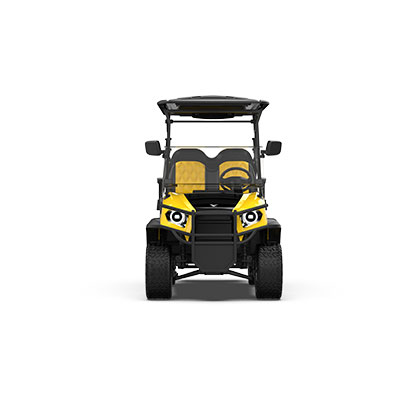 Stylish and Functional Design
Artfully designed to blend style with usability, the Electric Elevated Golf Cart emanates an air of grace while addressing your travel demands. With its contemporary aesthetics, comfortable seating options, and expansive storage capabilities, this conveyance effortlessly blends elegance with purpose, enhancing your neighborhood cruising ventures.
Masterfully crafted to combine elegance and effectiveness, the Electric Raised Golf Cart exudes a sense of sophistication while fulfilling your transportation requisites. Featuring a modernized design, cozy seating arrangements, and spacious storage provisions, this automobile harmoniously merges beauty and utility, augmenting your local touring escapades.

Lifted Suspension for Versatility
Seamlessly negotiate varying terrains with the Electric Raised Golf Cart's elevated suspension design, ensuring effortless handling. Whether navigating through bumpy streets or embarking on mild off-road explorations, this neighborhood electric vehicle gracefully glides across different landscapes, offering versatility and flexibility to your adventures.

Safe and Secure Features
Paramount emphasis is placed on your safety, and the Electric Elevated Golf Cart stands as a testament to this unwavering focus. Outfitted with indispensable safety features including headlights, taillights, seat belts, and reflective mirrors, this mode of transportation guarantees a tranquil voyage, regardless of the prevailing daylight or atmospheric state.

Easy Charging and Low Maintenance
Replenishing the Electric Lifted Golf Cart's energy is a straightforward process, made possible by its electric power origin. Merely insert it into a conventional electrical receptacle, and you're set to embark on your impending journey. Furthermore, the electric motor setup diminishes the necessity for frequent maintenance tasks, affording you time and financial savings on customary care.

Customizable Options
Curate your very own signature on your community electric vehicle through an assortment of tailored options, encompassing a kaleidoscope of colors and augmentations like Bluetooth-enabled audio systems, USB charging hubs, and even dedicated spaces for your golf paraphernalia. Shape your Electric Lifted Golf Cart to harmonize seamlessly with your distinctive inclinations and the rhythm of your daily life.
Conclusion
Redefining the landscape of neighborhood conveyance, the Electric Lifted Golf Cart unveils an innovative perspective on local mobility, introducing an eco-friendly, cozy, and sophisticated means to discover your community. Embracing a green electric powertrain, effortless performance, and adaptable characteristics, this neighborhood electric conveyance unravels an exciting avenue to adopt a more ecologically responsible and delightful mode of navigating your surroundings. Embrace the imminent wave of environmentally sensitive mobility with the Electric Uplifted Golf Cart and become an integral part of the movement towards a purer and more sustainable global environment.